Introducing our final podcast, and some personal thoughts
I'm using the same title that my co-host Alex Mazer, a founding partner of Common Wealth, used when he uploaded Podcast Episode #10 http://donezra.com/podcasts/ to his LinkedIn account and all the other places that carry it. It's the perfect title, and after all it was Alex's idea to do the series of podcasts around themes in my book Life Two. I'm so glad he had the idea, and that it worked so well. I thoroughly enjoyed working with him.
This final episode is another bonus episode, really. All the way through I had my say, in the final section of each podcast, called Don's Personal Touch. We thought it would be a good idea (and yes, it has proved to be so!) to focus an episode on Alex and his co-founding-partner Jonathan Weisstub. And so this time I interviewed the two of them.
We started by discussing how to create a community for people who don't have access to pensions through a workplace plan, and about financial education for them. We talked about creating defaults that they can place their trust in. About partners (unions, associations, for example) who care about their members, and Common Wealth's experience with them. About the fiduciary duty to bring about an alignment of interests with what is best for the members. And more – tune it and listen to it. You'll enjoy it.
***
We've been so lucky with the global experts whom we interviewed. Put them all together, and it's a stunning list.
Chris Battaglia, group publisher of Pensions & Investments and CEO of the World Pension Summit, who has probably organized and participated in more pension conferences around the world than anyone else;
Jeremy Cooper, chairman, retirement income at Challenger Limited, responsible for the massively influential Cooper Review of Australian superannuation, among many achievements;
Jonathan Clements, founder and editor of the HumbleDollar website https://humbledollar.com/, author of superb books on personal finance, and former personal finance columnist at the Wall Street Journal for decades;
David John, senior strategic policy adviser at AARP and nonresident senior fellow in economic studies at the Brookings Institution;
Fred Vettese, former chief actuary at Morneau Shepell, author and prolific columnist on retirement issues;
Ernie Zelinski, million-selling author, innovator, professional speaker, whose writing has been a big influence in my life;
Dr Jon Glass, director at 64 PLUS, pioneering in the new field of retirement coaching;
Dr Moshe Milevsky, finance professor at the Schulich School of Business at Toronto's York university, author, speaker, and my guru on all things to do with retirement;
Ida Rademacher, vice president of the Aspen Institute and executive director of the Aspen Financial Security Program;
Will Sandbrook, executive director of NEST Insight (NEST being the UK's National Employment Savings Trust);
Cindy Deere, general manager of Shell's US pension plans and very helpful personally as I finalized Life Two.
Wow! It's a privilege for Alex and me to know these outstanding people, any one of whom would have been a catch for our series. And we've had the pleasure of knowing many of them for many years.
These days you're expected to add a disclosure. I have no business relationship with any of the above. I'm a director of Morneau Shepell Asset & Risk Management Ltd, but ironically never had the chance to work with Fred.
***
The thought occurs to me that Australians have always been exceptionally kind to me. At Russell Investments we tried to be on the leading edge of matters related to pension funds and investing, but even in that group I found it was the Australian office that used to the the first to want to explore and discuss new ideas. So they invited me to their client conferences year after year, which I'm sure helped me to become Russell's Co-Chair (with my friend John Stannard) of Global Consulting. Whenever the conference was close to a weekend I used to take the opportunity to do the BridgeClimb in Sydney, as the views are utterly spectacular.
Normally you go with whatever group and time the BridgeClimb staff can fit you in with. But to make your tenth climb special (yes, some of us are crazy!) they allow you to create your own group and they'll find a way to give you a choice of times. So, to express my appreciation to my Australian colleagues, I made a group of a dozen of us and selected a twilight climb. A wonderful experience! (After which the staff said: "Did we ever tell you about the special 20th climb?")
There's a picture here of the group, with the evening lights of Sydney's Central Business District in the background. In turn that reminds me of the time my wife Susan and I did the climb, and the earlier time when I did it with daughter Kathryn and like-a-son Tremayne, just after the Sydney Olympics, which we were able to attend thanks to a friend and former colleague squeezing us into his home with his wife and family. (Thanks again, Chris and Liz!)
I'm truly lucky, as I keep saying.
***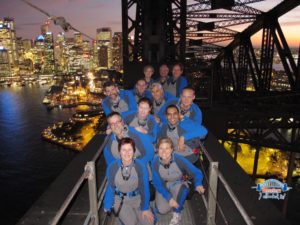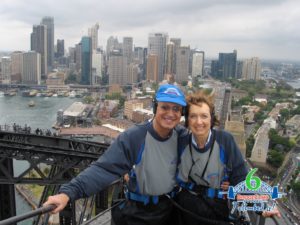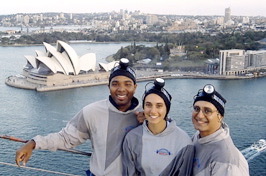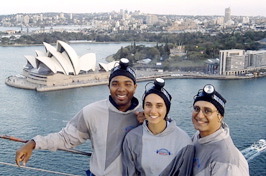 ---
I have written about retirement planning before and some of that material also relates to topics or issues that are being discussed here. Where relevant I draw on material from three sources: The Retirement Plan Solution (co-authored with Bob Collie and Matt Smith, published by John Wiley & Sons, Inc., 2009), my foreword to Someday Rich (by Timothy Noonan and Matt Smith, also published by Wiley, 2012), and my occasional column The Art of Investment in the FT Money supplement of The Financial Times, published in the UK. I am grateful to the other authors and to The Financial Times for permission to use the material here.
---